Hello! I left off with our living room updates and we've made some great progress. I'll have a post for you soon, but today I want to share a new space in our home; our loft area.
Photo from Zillow
I apologize for the poor photo quality, but it gives you a good sense of the space. In the 90s the previous homeowners put a second story addition on the house and created these great cathedral ceilings with skylights. There are 2 bedrooms and a full bath upstairs as well as this little space at the landing.
The listing described the space as a study and I can definitely see that working, but we're currently using a 4th bedroom as the office. I thought it might be nice to use this area as a tv/reading nook since we don't have a tv in our bedroom and the only other tv-watching space is the formal living room.
Because of the slanted ceilings, furniture size and layout is limited so I thought that a chair-and-a-half would work well. After scouring the options, I landed on the
Willow Twin Sleeper Sofa from Crate & Barrel
in Spruce. There were more affordable options that I liked, but our stairway is so narrow that this is one of the only ones that would fit. Also, the twin sleeper will be nice to have when guests stay over.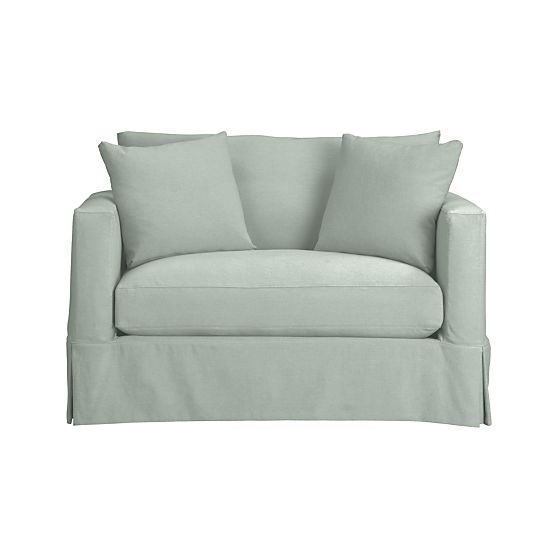 Willow Twin Sleeper Sofa
After waiting almost 2 months for this custom chair to arrive, it came today (and 2 hours before my scheduled delivery time. Woo hoo!). When the delivery guys arrived I first held my breath thinking it wouldn't fit up the stairs and I'd be stuck with a sleeper sofa and no place to put it, but promptly celebrated with a happy dance when it did. Then I immediately dropped everything else I was doing and threw together a room in less than an hour.
I "shopped" my house for some other furniture and accessories and threw together a neat little space (I won't share the rooms I shopped - they're now a disaster, ha!)


View as you come up the stairs
Bathroom and stairs to left and spare bedroom straight ahead